The holiday season is a time for tradition.
At no other time of the year are people more connected to their cultural heritage, as friends and family gather to share old stories and new gifts. But more important for some could be those special family recipes, which are made only once or twice each year.
In an effort to raise money for needed repairs and upgrades to St. Peter Armenian Apostolic Church in Watervliet, the congregation's women have compiled hundreds of family recipes into a new cookbook.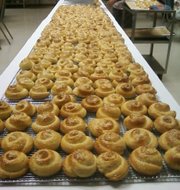 "These are recipes that can be hard to find," said Sharon Foley, a member of the church's Women's Guild and chairwoman of the Cookbook Committee.
Foley said the church holds a bazaar each year where the food is very popular, and volunteers often receive questions about what is in the food and how to make it. Since the demand was there, volunteers began holding cooking demonstrations and teaching how to make traditional dishes. One of the most popular treats is paklava, the Armenian equivalent to the Greek baklava.
The cooking lessons were a success, so the guild decided to put together a cookbook.
"Next year we will be commemorating the church's 100th anniversary," said Foley. "This is not only a nice way to share our culture, but a way to recognize the women who came before us."
This is the second time members of the church have produced a cookbook. About 15 years ago, church members opted to make the first cookbook, but it was small and looked more like a pamphlet. The women of the guild took these recipes and added their own to the new cookbook.
The book contains about 200 to 250 family recipes, many of which have been passed down for generations. Foley said the majority of the congregation are first- and second-generation Armenian, so some of the instructions read just like they would in "the old country," but all are written in English.
(Continued on Next Page)
Prev Next
Vote on this Story by clicking on the Icon