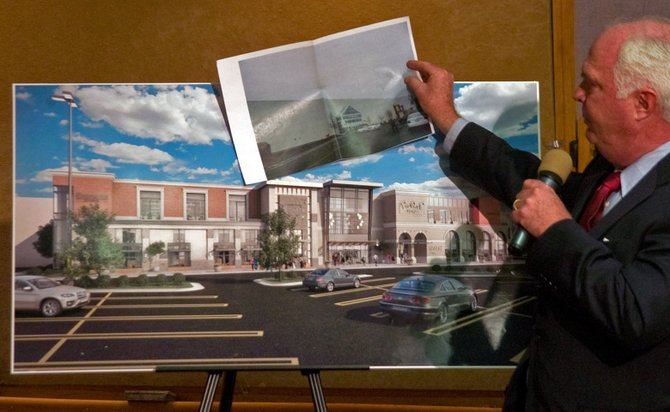 GUILDERLAND — Crossgates Mall developers heeded concerns of Guilderland Planning Board members and revised its site plan to more clearly show impacts of the proposed two-story addition, along with a more attractive exterior design.
At its meeting on Wednesday, Dec. 18, the Town Zoning Board of Appeals heard Crossgates' plans to add 41,660 square feet through an expansion, making way for two restaurants on the first floor and two "entertainment venues" on the second floor. A public hearing was also held on the special-use permit Crossgates is seeking, but board members kept the hearing open. Crossgates went before the Albany County Planning Board on Thursday, Dec. 19. It will return to the Guilderland zoning board for final approval.
Concerns continued to primarily focus on how the expansion would affect parking lots and traffic flow in the surrounding area. The addition would be in front of the entrance in between Dick's and the doors leading to the escalator up to the food court.
"There are some minor changes to parking areas," said Robert Sweeney, the lawyer representing Crossgates. "The changes are basically parking lot configurations in response to the [planning] board's comments."
Sweeney said the revised parking lot configuration returns to how parking exists today. However, Zoning Board Chairman Peter Barber said the planning board preferred changing the parking spaces to be parallel to the building as presented in the original expansion site plan.
Sweeney said developers believed there was more concern over having long drive aisles running north and south, with town planners requests the lanes be split through the middle by a cross aisle. Sweeney said the middle split would result in "losing an awful lot of parking and efficiency" with the change.
"We get the shorter parking aisles by doing it east to west, and it accomplishes a couple of other things that they spoke to," Sweeney said.
(Continued on Next Page)
Prev Next
Vote on this Story by clicking on the Icon