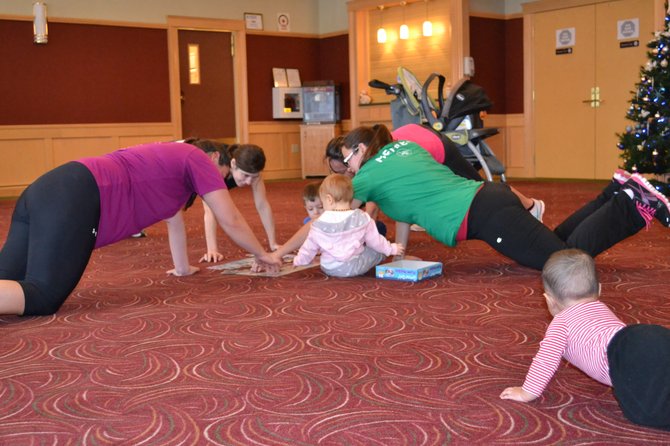 The Baby Boot Camp class, which is run by Britta Hogue, offers moms an opportunity to work out and bring their babies. The moms bring in a stroller and do different exercises involving the kids and their strollers.
"When I think about Baby Boot Camp, I think the most important thing is moms want to feel safe where they are bringing their kids. What safer place than the firehouse?" said Hogue. "When we met, I loved her (Heinbach's) personal story, and I think it just fit in great because this is a really great community program for moms and little ones."
Hogue owns Capital District Baby Boot Camp, which has classes in Albany, Clifton Park and Loudonville. The franchise was started in 2001 and has classes all over the country.
Christine Powell, a mother who lives on Albany Shaker Road and brings her son, Carter, to the class, praised the format.
"It's a nice switch up in the routine. Every class has something different," Powell said. "He (Carter) likes it too. He's an only child, and I'm a stay-at-home mom so it's good for him to be around other kiddos."
Another aspect of the program is to ensure that the firefighters remain healthy. Heart disease is the No. 1 cause of death among firefighters, accounting for 45 percent of on-duty deaths, which is why the fire department has a Fire Up Boot Camp. Other classes offered include gentle yoga, which concentrates on stretching to keep elderly participants flexible and to keep muscles working that they don't normally use. There are morning fitness classes and a wellness workout to help relieve stress.
The classes that run 6 to 13 weeks, and will resume in the beginning of January. Volunteers maintain the firehouse, and the price per class is under $10. The fees go to pay instructors so if there isn't enough interest, then the instructors can't be paid.
"The older people don't really come, and our day classes are very small," said Heinbach. "That's why I really want to beef those classes up."
Heinbach said people can come and try a class for free to see if they like it.
More information can be found about the classes at shakerroadfire.com/exercise-and-health.
Vote on this Story by clicking on the Icon