NISKAYUNA — As the Niskayuna Central School District tackles a $6 million budget gap, district officials are asking voters to approve borrowing $3.2 million to purchase a property it now leases for its transportation facility.
The Board of Education at a recent meeting approved the purchase agreement and set a public referendum for March 14 at Niskayuna High School. The $3.2 million bond would be paid over the next 15 years and fund the purchase of the 27-acre property. Officials said the purchase would save the district around $4.6 million when compared to what it pays in rent.
"We have been looking into this for a period of time … and I guess our persistence paid off finally," said Assistant Superintendent for Business Matt Bourgeois.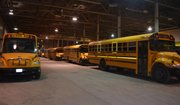 The district's scheduled lease payment for the 2013-14 school year is nearly $420,000 but the proposed bond payment would be $248,040 annually. Bourgeois said the district's current lease agreement increases 5 percent annually. The $4.2 million purchase price, with principal and interest payments, is less than half of the lease agreement, which would leave the district more than $9 million ahead after the 15-year life of the bond.
"We see this really as a great opportunity for us to become more efficient in terms of containing costs for the district," Bourgeois said.
Whether it leases or owns the facility, the district receives state building aid to the tune of around 67 percent of expenses and maintenance. Operating costs are reimbursed by 63 percent through transportation aid.
The purchase would remove the property from the town's tax rolls, which would remove around $70,000 in annual tax revenue to the district. School officials said the loss would be offset from anticipated revenue from commercial tenants on the property, estimated to total $150,000.
The purchase agreement holds a revenue sharing deal between the district and seller during the first six years, with all revenue going to the district after that time. Additional revenue could stem from leasing or renting available space inside the garage and on site, with the district occupying around two-thirds to 75 percent of the building.
(Continued on Next Page)
Prev Next
Vote on this Story by clicking on the Icon