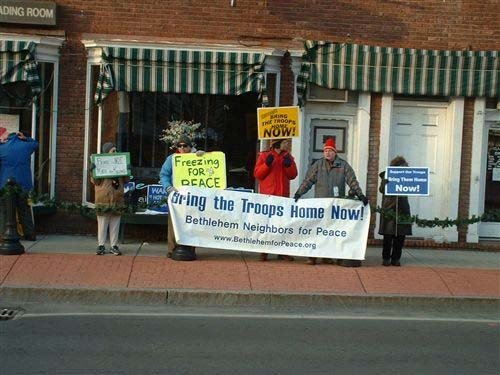 continued — BNP member Joseph Lombardo, who is also part of the United National Anti-War Coalition, said although membership remains high, regular participation in events and vigils has diminished over time.
"There was a lot of sentiment to protest against that war at the time," he said. "At first we had large meetings with large groups of people attending. We are now a smaller group, but we've gained a lot of experience."
He said although participation has shrunk, he believes sentiment for the Neighbors' cause has grown. The group has also established partnerships with other anti-war associations.
"Worldwide peace is not something Bethlehem can do alone," Lombardo said.
Quaif and Lombardo said although the wars in Iraq and Afghanistan are ending, the work being done by their group will not.
"If anything, we're looking to expand our scope," said Quaif.
Bethlehem Neighbors for Peace no longer have their sights focused only on stopping war, but many members are also taking up social justice issues, like veteran and immigration affairs. They are also becoming involved in the issue of horizontal hydraulic fracturing within the state.
"It's becoming increasingly obviously that the priorities in our country need to change," Quaif said.
Lombardo said he feels the group's presence in the community has been a positive for residents, and there is still a need for the Bethlehem Neighbors for Peace to continue on with their cause.
"The United States still has troops in 120 countries around the world and war takes up 59 percent of our budget," he said. "There's still lot of work for the anti-war movement to do and we're going to keep on going."
Vote on this Story by clicking on the Icon