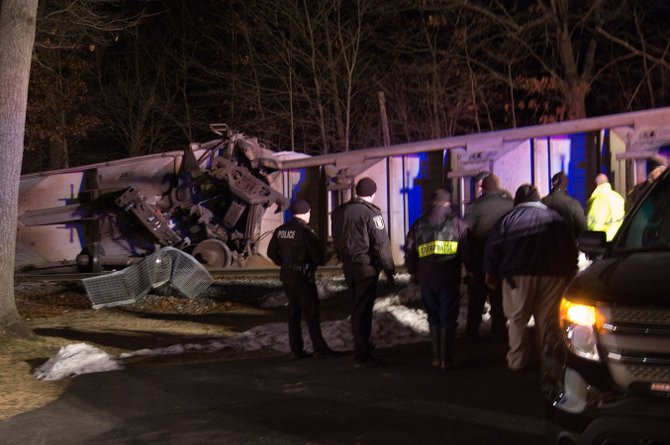 continued — As Stern walked out his back door he noticed train cars coming down the tracks at around 15 to 20 miles per hour. He later found out a runaway train car smashed into a train parked on the tracks, which caused the noise he earlier heard.
"I look and there is no engine on it, just three cars and it smashes right into the back of the parked train that is just sitting there," he said. "Nothing really happens except for some sparks … and everything kind of stops and it lurches forward and that's it."
As he called 911 he heard fire engines and soon saw a police car drive down alongside the tracks.
"All the neighbors in the trailer park start filtering out and everybody is around the train, close to the train, they got flashlights, they are looking at the wheels," he said.
Then he heard a clacking noise and noticed another unmanned car coming down the tracks, so he yelled to neighbors and police to get off the tracks before the car crashed.
"Now all the cars are kind of piled up there and nothing is turned over yet, it is just sitting there," he said.
He ran inside his home to tell his 13-year-old and 14-year-old kids to stop playing video games and come outside.
"Just as they got out on the porch I hear two engines, together, coming full bore down the ... railroad tracks," he said. "They are not stopping. It is not slowing down. It is not even one bit letting off the throttle."
It smashed into the stopped cars, causing sparks and smoke as the several boxcars toppled, according to Stern.
"It was like slow motion, man," he said. "It was a good 20 seconds that this double engine is sitting there driving the train full bore … then it goes idle."
James MacFarland, director of operations for Glenville, said bulldozers are planned to be used to push flipped train cars off the tracks. Then the tracks will be repaired and a crane will remove the those cars.
After the blitz of first responders and media frenzy, Stern's wife, Tonya, said her son, Kyle, started reflecting on what happened.
"Kyle is sitting on the couch and he goes, 'Wow, mom — it could have went right through our house,'" she said.
Vote on this Story by clicking on the Icon