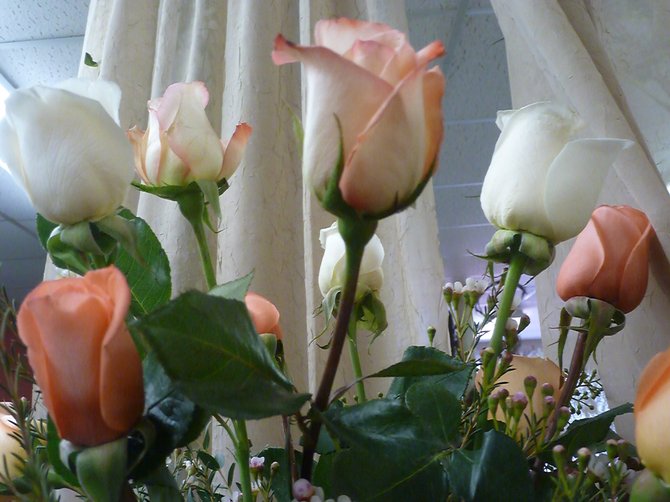 continued — Lennon said she thinks roses have become a bit "ho hum."
"In my opinion I would go with some color, but there's that mindset and many have been programmed to go with red," she said. "But there's so many more flowers available then there were years ago that the combinations can be endless."
Lennon said stargazers with pink roses are gorgeous, gerbera daises are a favorite and calla lilies are popular. She also said that if someone is looking to buy roses but wants something unique, she recommends English garden roses.
"They are beautiful and keep their fragrance," she said. "They open and look like a peony. People get leery because of how far they open, but that's the beauty of them."
However, Lennon did caution that English garden roses cost about twice as much because they are in limited supply.
Gough said she thinks many will stick with the roses because they are scared their significant others will be let down if they don't receive them.
"All we can do is offer suggestions, but we'll do whatever the customer is looking for," Gough said.
Customers can ask to individualize their orders by adding other gifts like balloons, candles, stuffed animals, candy or sometimes jewelry that is also sold at florist shops. Others may choose to not order flowers at all, but purchase a gift basket or plant depending on what their partner likes.
Mark Felthousen, owner of Felthousen's Florist in Schenectady, had a different take.
"Some guys don't have specific ideas," he said. "They are just looking for something beautiful and for a certain value, and if they like what they see, they buy it."
Felthousen said the nice thing about going to a florist is the customer doesn't need to know a whole lot to get a nice gift. That is what the professionals are for.
"Wives just want to be remembered," he said. "We'll provide the ideas. Just don't forget and remember to order early."
Vote on this Story by clicking on the Icon