continued — "Valentine's Day can be a very traditional holiday," Krause said. "They usually know what that person likes, so they try to get something that they know they are going to enjoy."
Still, Krause offers some different takes on chocolate. His newest creation is a chocolate high-heeled shoe, which is filled with truffles and candy and decorated.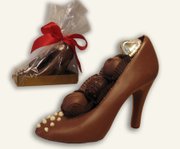 "We tested this for mother's day last year and they were crazy popular," Krause said. "These shoes are just a little bit smaller than life size."
Krause is hoping to sell a lot of the shoes for Valentine's Day, but his biggest seller is a mainstay with the holiday: chocolate covered strawberries.
Between the day before Valentine's Day and the day of the holiday, Krause's store will make around 32,000 chocolate covered strawberries.
"It is probably the main thrust of what we do for three days," Krause said. "They are very delicate and very succulent. It just really sort of sums up Valentine's Day."
Joe Suhrada, owner of Uncle Sam's Homemade Chocolates on Albany Street in Schenectady, said chocolate covered strawberries are his biggest seller, too.
Suhrada said he uses strawberries from California and offers them dipped in milk, dark and white chocolate. Suhrada and Krause both said while milk chocolate remains the favorite, dark chocolate has been rising in popularity.
If your valentine doesn't want flowers but has a sweet tooth, Uncle Sam's offers chocolate roses, which will melt in your mouth instead of wilting on a shelf.
"I sell them year round, but for Valentine's Day I sell around 50 to 60 dozen," Suhrada said.
The roses are solid chocolate and molded onto the stem and packaged. Suhrada said oftentimes chocolate roses can be hollow. The roses can be made in the three classic chocolates, along with sugar-free.
If strawberries are too traditional, The Chocolate Gecko, on Colvin Avenue in Albany, offers up a variety of dipped fruit including kiwi, pears and pineapple.
Vote on this Story by clicking on the Icon