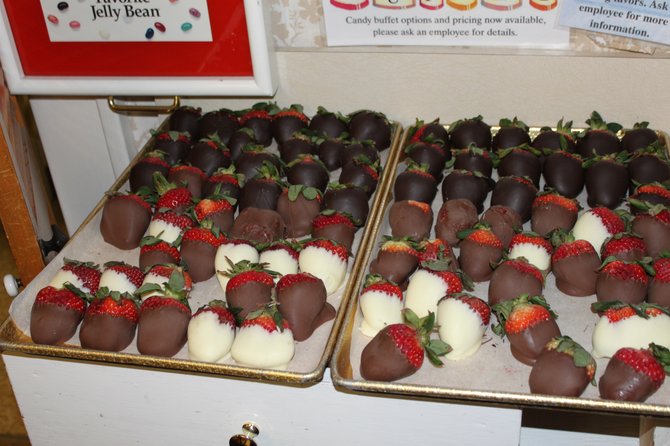 continued — "Over the years people keep asking for a new fruit," said Terra Stratton, owner of Chocolate Gecko. "We have what we think is a beautiful fruit platter, but we still do special requests."
Gecko's traditional offering is a mixture of the four fruits, but Stratton said special requests have seen her dipping apples, bananas and other fruit.
Stratton thought of something new to offer this year playing off the holiday's iconic figure: Cupid Poop. The treat is a homemade marshmallow heart that can be "popped in" one at a time, with strawberry, chocolate and vanilla offerings.
"If you haven't had homemade marshmallows you don't know what missing," Stratton said.
If you still want a heart-shaped box, Candy Kraft Candies located on Route 20 in Guilderland, offers several unique boxes, from a man's work shirt with a tie to a pink with white polka dots and a white ribbon.
"Traditionally for years and years it was the red foil type box," Bob Pikcilingis, owner of Candy Kraft, said. "It seems like it used to be men buying for wives or girlfriends, but now they reciprocate … so there are some male choices."
Pikcilingis said the store fills very few boxes so customers can pick out what candies their significant other will enjoy. Cherry cordials are a popular treat, along with raspberry creams.
Since the raspberry creams are cast in starch, the store could offer them in a variety of shapes, with the traditional heart shape being a popular choice.
"The fact that we can make it heart shaped just makes it a winner on Valentine's Day," he said.
Vote on this Story by clicking on the Icon