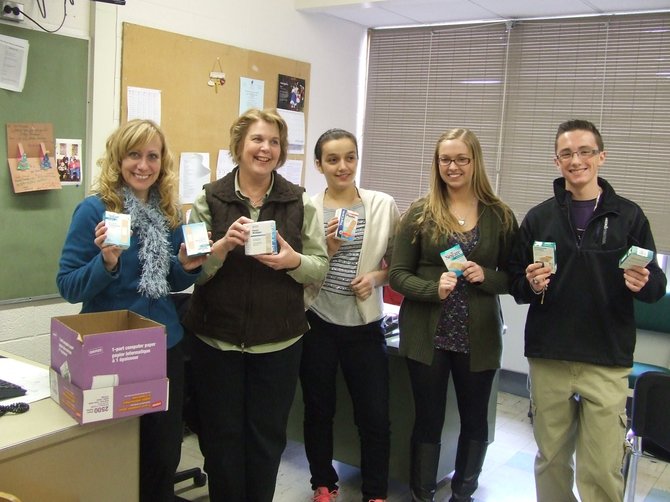 COLONIE — At the South Colonie Central School District, budgeting in the face of cuts to aid might seem like performing emergency surgery. But one result of tough times is that some students are taking it upon themselves to deal with minor nicks and bruises.
Last fall, when members of Colonie Central High School's Key Club heard reductions meant the school's health office was having trouble budgeting for Band-Aids, the club took action. In a few months, the students organized a donation drive and collected more than 200 boxes of Band-Aids to hand over to nurses.
"It sounds simple. And we're not in dire straits, but it was more a demonstration that we're Key Club and we want to help," club co-advisor and special education teacher Courtney Bellouny said. "This is something little … simple but effective to save money and help people."
More than 100 students are involved in Key Club and the group has held several collections throughout the school year, including collections for jeans for unfortunate teens, applesauce for Equinox and supplies and apparel for Superstorm Sandy victims Downstate. Collecting Band-Aids for the health office was a no brainer for the students, and Key Club Secretary Oneida Schushe said the club can "still make a difference, however small."
"It's nice to give back to the school because we get so much from it," said Schushe, a tenth-grade student.
Like many school districts, South Colonie has made cuts most everywhere. It is contending with the combination of a loss of state aid and the new state tax cap law. Including aid adjustments proposed in Gov. Andrew Cuomo's budget this year, the district will have lost close to $14 million in aid, Superintendent Jonathan Buhner said.
With the loss in state aid, the district has downsized across the board, including through attrition or not replacing positions when people leave. Buhner said they are trying to make the necessary adjustments "strategically and thoughtfully."
(Continued on Next Page)
Prev Next
Vote on this Story by clicking on the Icon