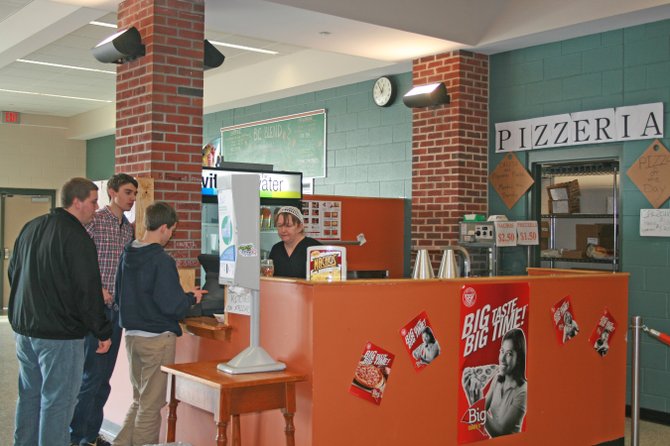 continued — "We got a lot of complaints from parents the past few months about kids coming home hungry," he said. "Now parents are understanding what we are doing and kids getting used to it. The meals are healthy and the items better for them."
Those fluctuations have fiscal implications, though. School lunch programs must be self-supporting, and with the number of lunches sold dropping many districts are making up for the loss through the sale of a la carte items. Those items range from an apple or salad, a carton of milk, ice cream or slice of pizza.
Franchini said a la carte choices at BC's elementary schools are limited and there are a few more options at the middle school. At the high school, a la carte items make up 25 to 30 percent of all sales. He said because those choices are limited at the lower school levels, the methodology behind the new lunch regulations should work to help future generations make healthier eating habits, but those in high school already have found the menu change hard and sometimes opt to skip traditional lunch and buy a la carte.
The federal government actually relaxed some their guidelines after older students across the country complained of still being hungry after lunch because portions were smaller. In December, an increase to protein and bread portions was announced.
In a statement, the USDA said the intent of the proposed regulations is "not to limit popular snack items, but instead to provide snack foods that are healthier" and added "many schools have implemented voluntary standards with little to no loss of revenue."
The proposed USDA regulations would impact vending machines, a la carte lines and snack bars. The caloric count of snacks could be limited to 200 calories and a limit would be placed on the types of drinks sold in schools depending on the grade level. The federal government cannot place regulations on any food brought into the school by students and staff for lunch, snacks or as part of a celebration.
Vote on this Story by clicking on the Icon