BALLSTON SPA — It's dangerous out there.
That's the sense of anyone who has kept up with the news lately, and that's also the sense of paramedics working in the Community Emergency Corps in Ballston Spa. They know they might be called on to run into volatile, dangerous situations to help wounded, just like police officers. But unlike police, they don't have the protection of bulletproof body armor.
That's why the company is seeking grant money to buy armor for its members. It's not an unusual goal, company members said.
"There is a push toward tactical EMS," said Ray Ott, of Community Emergency Corps. "We're the ones who will be giving medical care to wounded people as quickly as possible."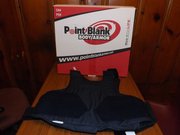 Ott cited mass shooting situations in which paramedics might be going into active shooter situations right behind police. He referenced Columbine, in particular.
"The police couldn't help the wounded," he said. "A number of them bled out."
The ambulance corps sits right in the middle of Ballston Spa and serves a district with facilities and buildings that could quickly become targets. Among them are the Saratoga County jail, the county seat, the county courthouse as well as Ketterling and area schools.
"It's a hot button for municipalities to have body armor," said Ott. "It is especially so for Ballston Spa. If something happens at the jail or the county courthouse, we would be the first line of EMS support to come in. Logic says we should be equipped to provide the service."
Making the purchase happen isn't as easy as making the decision, though. The body armor costs $600 a piece and Ott is looking to purchase 16 to 20. He's seeking grant money to make the purchase.
"Which is another problem," said Ott. "Grants that allow the purchase of body armor are geared towards police and fire departments. We are neither."
(Continued on Next Page)
Prev Next
Vote on this Story by clicking on the Icon