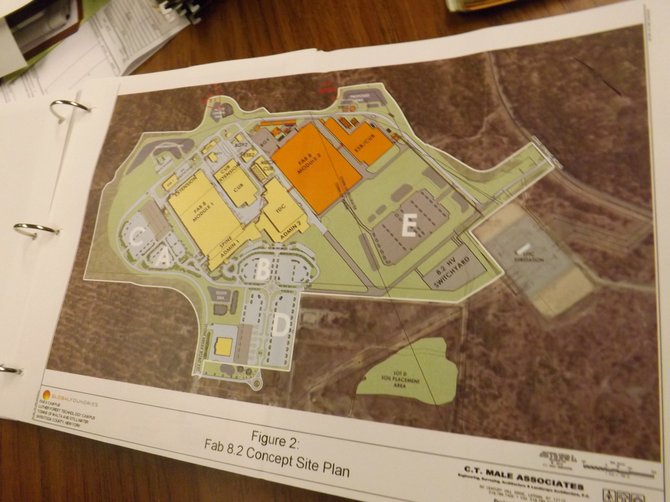 MALTA — GlobalFoundries submitted an amendment to its Planned Development District (PDD) in the Luther Forest Technology Campus to the town of Malta earlier this month in anticipation of the development of a second computer chip manufacturing plant, but the company has not made a final decision about whether to construct the plant or not.
The second chip plant, if developed, would encompass land that is also in the Town of Stillwater. On Feb. 12, GlobalFoundries put on a workshop for the public and officials from both towns on their intentions.
According to Travis Bullard, a spokesman for GlobalFoundries, the new PDD amendments are needed to support a possible second semiconductor manufacturing facility at the Fab 8 campus, which would be known as Fab 8.2.
"While we are only in the initial design and planning phase this project, our global business continues to grow and we are excited about the possibility of expanding our investment and capabilities in New York," said Bullard.
The existing PDD was developed about 10 years ago to support a potential fab campus. The company worked with the Town of Malta and the Town of Stillwater to amend the PDD in 2008. That allowed the company to move forward with the original Fab 8 project in 2009.
Bullard said the new PDD amendments are one step in the planning process that would allow them to move forward with the Fab 8.2 project and meet new industry dynamics going forward.
"We expect the entire process through site plan approval and building permit issuance will take about six months, but we are asking for PDD Amendment approval in 90 Days," said Bullard.
The amendments to the PDD are size-related, according to Malta Planner Tony Tozzi.
"Basically, the proposed building will exceed the building footprint originally proposed," he said.
Other changes include height of the building and size of the clean room. According to Tozzi, zoning laws currently allows a height of 110 feet. The proposal is to increase the height to 125 feet. Tozzi said this is to allow for a taller stack for the factory.
(Continued on Next Page)
Prev Next
Vote on this Story by clicking on the Icon