continued — A public hearing was also held on Wednesday. Of the nearly 40 people in attendance at the meeting, only four publicly gave their opinions on the project. All those speaking were against it, but members of the ZBA said one woman wrote a letter in favor of the plan.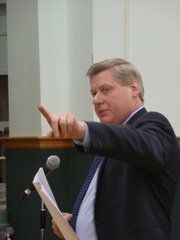 "Allowing School's Out to operate a business in our residential neighborhood would change its character and create unsafe conditions, not only for the children at School's Out, but also for the residents in our neighborhood," said Adams Street resident Stephen Malinowski.
In an eight-page statement, Malinowski detailed why he believed the neighborhood would change due to increased traffic, why the parking situation is unsafe, why the property should be sold to an owner that would produce taxes for the town and why the quality of life for current residents would diminish.
"Property owners in the neighborhood, especially those located adjacent to the property, will have their quiet enjoyment use of their property threatened as School's Out plan to build a playground less than 10 feet from the property line," he said.
Resident Brent Yanulavich said the move would destroy the unique character of old Delmar and he asked the board to "think long and hard about the decision, as it will affect many families."
Steve Gravel, of Adams Place, said the move might harm property values. He said his family wouldn't have moved to the neighborhood 10 years ago if he knew a childcare facility would be operated down the street. He said if School's Out makes the move, his children would no longer be allowed to ride their bikes after school because the increased traffic may cause unsafe conditions.
The Zoning Board also ordered further environmental reviews. If a variance is granted, the project would still need to go through a site plan review with the town's Planning Board.
Vote on this Story by clicking on the Icon