Saratoga Springs — An upcoming gun show at the Saratoga Springs City Center has drawn a volley of protest from residents who were "shocked and dismayed" that the city would allow such an event in wake of the school shooting in Newtown, Conn, and led the City Council to adopt a resolution urging organizers of the show not to display or sell semiautomatic firearms.
Cries of outrage and pleas for a time of healing echoed through the City Council chambers during a standing-room-only council meeting on Tuesday, Jan. 2. Susan Steer, who started a petition to stop the show that has amassed more than 1,200 signatures, summed up the sentiments of those in opposition.
"I was completely shocked. I was very upset that a gun show would be held in our city just a few days after the recent tragic events," she said.
Steer, who is the mother of three children and a maternity nurse at Saratoga Hospital, said she started the petition because she was not getting results by approaching City Center officials.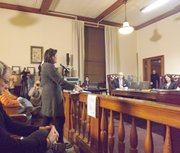 "The City Center and the city needs to take a step back and think about what kind of activities we want in this public space," said Steer. "Since the shootings, three gun shows thus far have been cancelled. It's not about money but saving lives, including children's lives. It's truly a time to step back. Not having a gun show right now is a way that this local community can effect a change."
Comments from the public members came in rapid succession and all speakers felt a resolution drafted by Public Safety Commissioner Christian Mathiesen was not worded strongly enough. That resolution called for vendors not to display semiautomatic firearms.
Most speakers called for the gun show to be cancelled altogether, but council members said the City Center had a binding contract with NEACA, the gun show sponsor, and the city had no legal power to cancel the event.
(Continued on Next Page)
Prev Next
Vote on this Story by clicking on the Icon