COLONIE — A Verizon employee was arrested for accessing a customer's phone data without authorization, Colonie police said.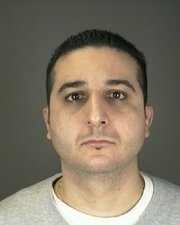 On Dec. 20, 2012, a 19-year-old Colonie male left a Verizon store at 650 Troy-Schenectady Road in Latham after receiving service on his iPhone and noticed a text was sent to a number he did not recognize, police said. The man opened the text to see a topless photo of his girlfriend that was stored on his phone sent to the unrecognized number. He called the number and got the voicemail identifying the phone owner as "Dominic." The man went back into the Verizon store and learned that the person that fixed his phone was Dominic M. Pirozzi, 33, of 5118 Lazy K Trail in Ballston Spa, police said. The man quickly contacted the police and the store's management about the incident.
Following an investigation, Pirozzi was arrested and fired, and turned himself in to be charged on Jan. 2. Pirozzi was released on his own recognizance and issued an appearance to ticket to return to the Colonie Justice Court on Wednesday, Jan. 9. He is charged with the unauthorized use of a computer, a misdemeanor.
Pirozzi's phone is being examined to see if there are any other victims.
Vote on this Story by clicking on the Icon