CAPITAL DISTRICT — Thirty-eight weeks into a normal pregnancy, Paula Tancredi Penman knew something was wrong. She noticed her son wasn't exhibiting the same movement he had throughout her pregnancy and immediately went to the hospital. Within 45 minutes, she had an emergency C-section after the doctors realized her newborn had transfused 85 percent of his blood back into her.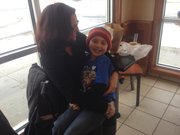 "He was born white as a sheet," she said. "I had a perfectly normal pregnancy and suddenly someone needed blood. I couldn't give him blood because I was on the operating table. My husband couldn't because there wouldn't be enough time. (My son) would've died."
Doctors quickly hooked up Penman's son, Landon, for a five-hour blood transfusion, and after a week of checking all of his organs, the family was able to take their healthy boy home.
Penman understands firsthand the importance of blood donations, and she told her story with her 6-year-old son at Dunkin' Donuts at 1198 Troy-Schenectady Road in Latham on Friday, Jan. 4, for the kickoff of January's National Volunteer Blood Donor Month. For the past six years, Dunkin' Donuts has teamed up with the American Red Cross for the "Give a Pint, Get a Pound" campaign, in which blood donors can give a pint of blood and receive a free pound of coffee in return.
Over the past five years, Dunkin' Donuts has given out 435,000 pounds of coffee. All presenting donors at the American Red Cross blood drives in the Capital Region will receive a coupon for the free pound of any flavor of coffee.
"We're glad to give it away," Dunkin' Donuts franchisee Ivo Garcia said. "It's a great partnership for us and viewed as good community service. We're having fun with it."
The blood drive will continue throughout the month of January at various locations, with an American Red Cross truck parked in Dunkin' Donuts parking lots. District Director of the American Red Cross Aric Aery said they're looking for any blood type, but are always focused on O Negative, the universal donor.
(Continued on Next Page)
Prev Next
Vote on this Story by clicking on the Icon