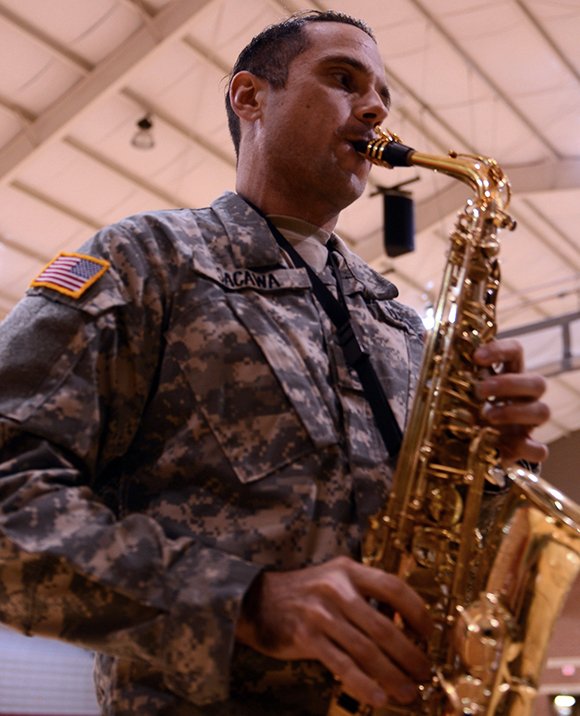 He admits he was young and really wasn't ready to commit to the career right out of college. He was still curious and wondered what he could accomplish from a different career in music.
After graduating from Michigan, he taught saxophone at the University of Arizona before reenlisting in the Army and going back to his dream job.
"As an artist, we feel the compulsive need to communicate with people through music," he said. "I am very fortunate to have a job that allows me to do something that I love and have my talents serve something that is a little larger than myself."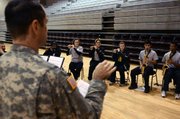 Sacawa on Saturday, Jan. 5, played in front of large crowd as part of the U.S. Army All-American Bowl, an event featuring the 90 best high school football players from across the country in an East versus West match-up. The 12th annual event at the Alamodome in San Antonio, Texas, had record attendance this year, with more than 40,100 people in the stands.
This was the sixth year the All-American Band performed during halftime. The marching band features 125 of the best high school senior marching musicians and color guard members. Sacawa was the woodwind conductor for the band this year.
Part of the job he enjoys most is when the band travels, there is an educational outreach component. Outside of formal evening concerts, the Army Field Band plays recitals for students, or sometimes Sacawa will even perform as part of a saxophone quartet for college students.
"That allows me to touch people who may have a similar objective in life," he said.
He travels 100 to 120 days per year with the band, mostly within the country, to "spread the Army message through music." Through the band, he's been to all 50 states.
"It is very awesome. We do it so often and so much that it is easy for it to sort of become old hat," he said. "Every time we go out you see something different and there are areas of the country that are extremely gorgeous."
Vote on this Story by clicking on the Icon