continued — Michner said the property, which is agriculturally zoned, has seen new usage in recent years during the off-season. The Ridge has hosted special events and concerts to bolster revenues, which the entire industry has seen fall off through the lingering recession.
"We have to expand the business in order to stay viable as a ski area and to make the business itself grow," she said. "If you were to look around at the other ski areas they have similar situations as ours and they are doing things all over the place."
Michner said she understands the Ridge serves a niche purpose for most people.
"We realize we are what they call a feeder ski area," she said. "It is a great place to warm up for the season and it is a great place to learn."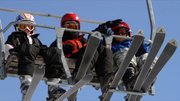 This business has largely tailored itself to suit its customers, serving as a family-friendly destination and welcoming seniors who are still hitting the slopes. Its 70 Plus Club, which offers free season passes to anyone 70 and older, has been growing in popularity, she said.
"We don't want to lose the family-friendly atmosphere that we have," Michner said. "We want to keep it in with the feel of the town, in with the feel of the people that we primarily call our customers in the winter time."
But people in general are demanding more from the Ridge than when it first opened, and it's only getting harder to deliver that during warmer winters.
"The seasons are a lot shorter than they used to be and the people are much more skilled and people want more now than they were happy with in the '70s," Michner said. "Now, you just see people coming to learn and wanting to learn. … We can't make the hill any bigger than it already is."
Vote on this Story by clicking on the Icon