Zach Yakel made the two biggest plays in last Thursday's Suburban Council basketball doubleheader at Siena College.
First the Shaker senior guard handed a check for $11,000 to his aunt and uncle, Regina and Mike Stewart, for the Shenendehowa scholarship established in his cousin Chris' honor following his death in a Dec. 1 accident on the Northway.
Photo Gallery
Shen vs. Shaker Jan. 10, 2013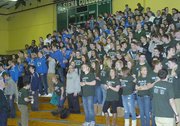 The first of two meetings between Shenendehowa and Shaker turned into a special basketball doubleheader Jan. 10 at Siena College. The doubleheader raised more than $22,000 for the Christopher Stewart and Deanna Rivers scholarships at Shen. Stewart and Rivers were killed in a Dec. 1 accident on the Northway that also injured Shen student Matt Hardy and Shaker student Bailey Wind.
Then, Yakel drained a critical three-pointer with one minute left in the fourth quarter to help Shaker beat Shen 65-61 in a meeting of the top two Suburban Council North Division teams.
"Coming in, emotions were running really high," said Yakel, who scored all five of his points in the final minute. "I knew I had to do this for my cousin Chris, his girlfriend (Shaker senior) Bailey (Wind), and for Matt (Hardy) and Deanna (Rivers)."
The doubleheader with the girls game raised $22,000 for Shen scholarships established in honor of Stewart and Rivers, who also died in the accident. An estimated crowd of 3,300 packed Siena's Alumni Recreation Center for the two games.
"What an atmosphere," said Shaker coach Jeff Holmes. "I'm just proud to be part of it."
Shen (5-2 league, 5-3 overall) rallied from a 36-17 deficit in the second quarter to take a 52-49 lead in the fourth quarter before Shaker (7-1, 9-1) came back to pull out the win.
"They started to compete," said Shen coach Tony Dzikas. "That's what we didn't do the first five or six minutes of the game."
The comeback began in the final four minutes of the second quarter. Shen used a 10-0 run to get within nine points before Chris Landers hit a basket in the closing second to put Shaker ahead 38-27 at halftime.
Shen maintained its momentum in the third quarter. A pair of Kevin Huerter three-pointers and a Jake Hicks free throw tied the score at 43. David Morrison briefly gave Shaker a 45-43 advantage with a strong move to the basket, but Drew Zlogar made a driving layup to pull the Plainsmen even again.
(Continued on Next Page)
Prev Next
Vote on this Story by clicking on the Icon