BETHLEHEM — Out of respect for Libby Little, Dan Swinton waited a year after her husband's death before approaching her about producing a documentary on his life and work in Afghanistan. But Swinton had no idea that was actually the worst possible moment.
"There were just planning a memorial to honor his life because it's so dangerous to travel to Afghanistan," he said.
It was a little more than two years before Libby Little was ready to help make the film come to life for PBS. The title is "The Hard Places," a nickname many aid workers have for Afghanistan.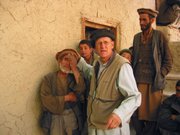 "It took me a while to entertain the idea of having the documentary done," Little said. "We were private people and we kept a low profile. Eventually, I found that it would be balanced and Tom wouldn't be made out to be a hero."
Tom Little, an optometrist who kept a home in Delmar, was killed in August of 2010 in a Taliban ambush in Afghanistan. The incident has since been dubbed the Badakshan Massacre, and it is viewed as the deadliest attack against aid workers of the Afghanistan War. A total of 10 members of the International Assistance Mission Eye Camp team were killed as they traveled from Nuristan to Kabul.
When Tom Little's story became national news, Swinton was working at WMHT, the PBS station in Albany. The story had broad interest as far as current events, but also a local, human connection. Swinton said he quickly knew he wanted to produce a project about Little.
"We want to examine his legacy, but this story is also important because in 2014 our troops are scheduled to leave," he said. "I think the country would like to forget about Afghanistan because we are sick of hearing about it, but there are a lot of humanitarians who poured their life into their work there and are going to stay no mater what. This is a story not just about Tom's death, but also what his team accomplished."
(Continued on Next Page)
Prev Next
Vote on this Story by clicking on the Icon