COLONIE — It's tough enough to find goods that are truly handmade these days, but rarer still to buy a whole structure built with sweat and elbow grease.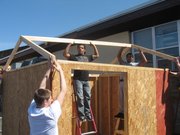 As part of their yearly tradition, students in the Colonie Central High School construction classes are building garden sheds available for purchase by the public. The sheds are sized 8 feet by 10 feet, and according to technology teacher John Gehres, they are better than anything you can get at the big box stores.
Students in tenth through twelfth grade build the sheds starting in February, separating into teams that build separate parts of the sheds throughout the class period. Although students have several other projects throughout the spring, Gehres said they tend to take the class specifically because of building the garden sheds.
"They love the project. They see the kids before them out in the springtime, out building sheds. It's a great project," he said.
The sheds feature vinyl siding and although no painting is required, there is a wide range of color choices. The roof has "Estate Gray Architectural: shingles and there is an 18-by-27-inch working window on the shed's side, also available in several colors. There is a 47-inch locking double door with black hinges and the sheds cost about $1,500, plus delivery charges. The school doesn't make profit on the sheds, though; the charge is strictly for the cost of the materials. All of the materials are from pressure treated lumber.
Gehres said the students are usually skeptical about the project's scale at the beginning of the year, and are likewise shocked that anyone would want to purchase something built by high school hands.
"The reaction usually is, 'Who is gonna want to buy a shed from us?'" After they finish building the sheds, Gehres said the students are always impressed with their work. "(They say) 'I can't believe how nice it is, and can't believe we built it.'"
Gehres also said a lot of the technology students get satisfaction working with their hands.
"It's rewarding to work with their hands and build something," he said.
Each year, Gehres said the class sells two to four sheds to community members. For more information on purchasing a shed, contact Gehres at 459-1220, ext. 3436. Delivery will be arranged at the end of the school year, and delivery and setup costs $175 an hour.
Vote on this Story by clicking on the Icon