continued — Once Sartoris approached him about buying the business there was the hurdle of finding money. DeLugo said he is still paying off his college loans. He was able to secure a loan through the University at Albany's Small Enterprise Economic Development program, which is a partnership between the university, SEFCU and Empire State Development. The program is the Capital District's first character-based microloan program.
"It is a very unique program in the country where the bank will give you a loan just based on character," DeLugo said. "No collateral, just my idea and who I am."
Sartoris said the business was started after his hobby grew into a business. The building used to be "the biggest bar in Schenectady," he said, so he renovated the building, built the racks to hold the tanks and was off and running. His two daughters mostly ran it the first 15 years.
"After 23 years, we have had people coming in all that time and they become friends," Sartoris said.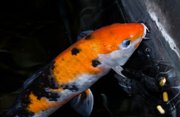 Offering honest advice to customers, along with a personal, knowledgeable staff is what has kept the business afloat, according to Sartoris. Breeding around 150 different breeds of fish offers a great variety, too.
The industry is filled with passion, too, because it isn't the best path to getting rich.
"I don't know anybody that is a millionaire selling fish," Sartoris said. "It is always a hobby with you. It is always something you are interested in. It is fun."
Even at 74 years old, Sartoris said there is still a lot he has to learn as the industry constantly changes and evolves.
Around a year ago, Sartoris said he started having back problems, which meant there were a lot of things he couldn't do anymore at the shop.
"I can't bend and pick up things … what good am I?" Sartoris said and laughed.
Vote on this Story by clicking on the Icon