Stillwater — When they talk about their adventures hiking in the Adirondacks, the eyes of Ryan Wichens, 18, and Gabe Messercola, 17, light right up. One can almost smell the crackling campfire, see the thousands of stars strewn across the night sky and hear the call of the loons.
"It is a beauty beyond description," said Messercola. "It becomes a part of you."
Wichens agreed.
"There are times when we're camping, and we don't want to go into our lean to," he said. "I've never seen so many stars in my life."
The duo have spent a good deal of their lives in the outdoors, but they realize their experiences are ones many youngsters never have. They're looking to change that by organizing an ambitious summer hike through the Adirondacks that will raise awareness of and benefit the Colorado-based charity Big City Mountaineers, which gives west-coast inner city youths the chance to have outdoor experiences.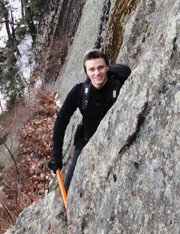 In June, Wichens and Messercola will step off on a 200-mile "blue line to blue line" journey (from the northmost to southernmost points of the Adirondack Park). They expect it to take 21 days, via canoe, bike and foot. They hope their fundraising through the trip will qualify them for Big City Mountaineers' Summit for Someone — a program that provides guided trips in exchange for a large donation. They each must raise $4,000 to tackle Washington's Mount Rainier, which would not only take their journey to the next level, but give someone else the opportunity to start their own.
A cause worth hiking for
Big City Mountaineers caught the teens' attention because of its mission. The group uses the money raised for outdoor and mentoring programs that teach valuable life skills to children that have never had the chance. The teenagers have immense respect for the foundation and what they do for underprivileged kids.
(Continued on Next Page)
Prev Next
Vote on this Story by clicking on the Icon