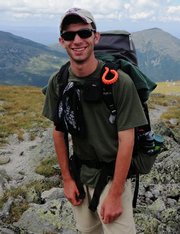 continued — They told a story of one mentor who was taking some kids on a hiking trip and one of the kids asked what the things in the night sky were.
"This kid had never seen stars before," said Gabe. "Living in his whole life, the kid had never been outside the lights of the city."
That thought sparked a fire for both hikers.
"One of our realizations was how much we've been affected by outdoors," said Wichens. "If it affects us that much, how much more would it affect kids who have never seen the outdoors? That's what I want these kids to experience."
Both of them hope to continue an involvement with Big City Mountaineers, eventually becoming mentors themselves or bringing a similar project to the Adirondack region.
"We would like to bring it more localized," said Messercola. "We hope this is the first project of many."
A lasting friendship
For Wichens and Messercola, Adirondack Traverse 2013, as they're calling the big trip, is a culmination of sorts. The teenagers are lifelong residents of Stillwater, and met on a school bus when Gabe was 5 and Ryan was 6. They've been friends ever since, sometimes to the chagrin of their parents.
"It is sometimes unsettling and nerve wracking, the things they come up with," said Gene Messercola, Gabe's father. "They've been hiking on their own for three years now and the elements don't bother them."
Nancy Messercola, Gabe's mother, said the two have remained friends in spite of a separation when Gabe started going to Christian Brothers Academy and Ryan started college this past fall.
"They have always been thinkers and planners," she said. "They come up with things unusual for their age."
Staying together was important to both.
"We don't like to hike without each other," said Messercola. "Now that Ryan's in college, we don't get out enough. Whenever he comes home, it's go, go, go. We've remained really close friends. He's stayed through it all."
Vote on this Story by clicking on the Icon