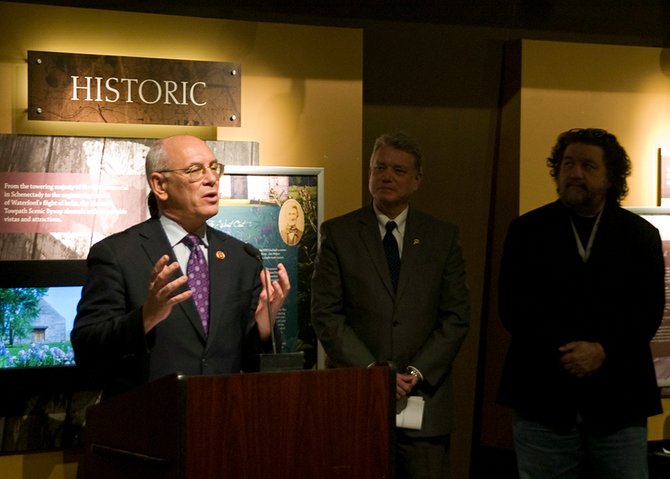 continued — For a more active approach to connect with the canal's history, the state Bicycling Coalition is receiving $6,000 to produce a series of bicycle route maps to point out sites of interest and scenic routes leading from the Erie Canalway Trail through Orleans, Wayne, Ontario, and Madison counties.
"You have a lot of people that go along the canalway trail, but we want them to get off the trail and spend some money as well as view the heritage of the areas around the canal," Bicycling Coalition Director Harvey Botzman said. "None of these areas have any sort of bicycling map."
Rep. Paul Tonko, D-Amsterdam applauded the efforts to connect people to the Erie Canal.
"We gave birth to a necklace of communities, dubbed mill towns, that then allowed the American dream to be tethered in those clusters," Tonko said. "All the communities have a story to tell and when we do it together, we weave our individual strands into the richness of a tapestry that allows us to understand who we are as a people and what we are as a place."
State Canal Corporation Director Brian Stratton said the canal system is a strong economic engine that generates at least $380 million in direct tourism spending annually. The Erie Canalway National Heritage Corridor stretches 524 miles across upstate New York and touches more than 230 communities.
The other projects receiving funding include:
H. Lee White Maritime Museum in Oswego, awarded $3,500 to seek the nomination of the Derrick Boat 8 to the National Register of Historic Places.
Rochester Museum and Science Center, awarded $6,250 to upgrade its current Erie Canal lock model exhibit.
History Center in Tompkins County, awarded $2,050 to develop an exhibit detailing the canal's impact on Ithaca.
Hoag Library, awarded $7,000 to create an exhibit and programming about the canal's history in Albion.
Village of Canastota and the Canastota Canal Town Museum, awarded $7,000 to improve an area adjacent to the Old Erie Canal by artist Corky Goss painting two murals of historic canal scenes.
Village of Spencerport, awarded $2,500 to develop a walking tour and guide about its history.
Vote on this Story by clicking on the Icon