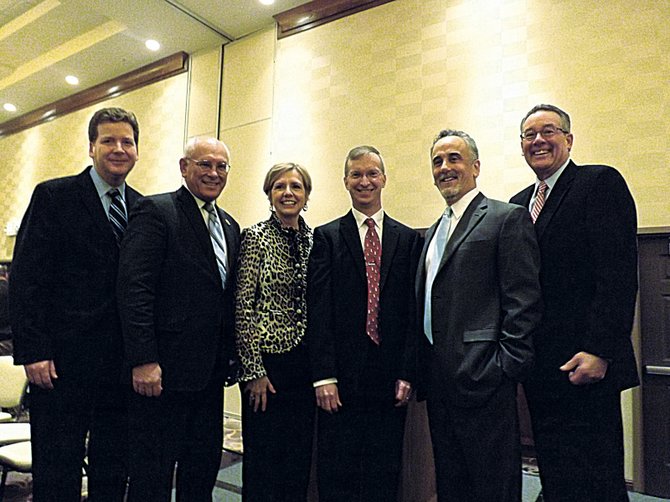 continued — "This has allowed businesses to have faith in our government," he said. "This is the place to invest."
Shimkus said businesses coming to the region and people buying homes here are starting to have an effect, but the biggest challenge will be to not become complacent.
"There are countries around the world trying to beat us," he said. "We have to make sure we continue to fight."
All four presidents said the key to future growth is developing a strategic plan for the region, which includes developing the highways, cities, waterfronts and infrastructure. One of the highlights is the goal of Albany International Airport to add another carrier, providing more connections to travelers.
To accomplish this, the chambers have asked businesses to work together as partners to apply for an airport grant. Egan said they've gathered a $500,000 commitment when applying for the grant. The federal grant will be $750,000, with the airport setting aside $1.5 million for the project.
"In the long term, if we don't have a competitive airport, we're not going to be successful," Egan said.
According to Shimkus, the second piece of the strategic plan is to bring more power to the region, a resource of vital importance to tech manufacturing businesses like GlobalFoundries.
"As your demand increases, so must your supply," he said. "We need to get state and federal governments to make changes in investments in our infrastructure."
He added there are 20 chambers in New York with energy alliance programs.
"This helps businesses save money," he said.
The final piece of the strategic plan is commuter train linkage via Amtrak. Steiner said that a second track will be added between Schenectady and Rensselaer.
"Our goal is to speed up service," he said. "It allows Schenectady to increase availability and improve service."
Steiner also said they are trying to add a car on Amtrak to transport bicycles. He said CDTA buses already has bike racks that are being used every day, even in the winter.
Vote on this Story by clicking on the Icon