SCHENECTADY — Anthony Mills and Ken Rechnitzer are doing their part to keep the spirit of statewide amateur competition in New York alive.
Mills and Rechnitzer are the organizers of the Liberty Games, a three-day multi-sport competition set to be held in and around Schenectady July 19-21.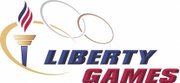 In its second year, the Liberty Games offers several sports that were part of the now-defunct Empire State Games – basketball, boxing, judo, softball and track and field. But it also offers sports such as BMX racing, flag football and pickleball, which is a cross between tennis, ping pong and racquetball.
"The racquet has a solid surface like a ping pong paddle, the games are played inside the service boxes of a tennis court and you use a wiffle ball instead of a fuzzy (tennis) ball," said Mills.
The Liberty Games also offers a mixed martial arts competition, but not in the version seen in UFC bouts.
"This is a youth event, and what we're doing is breaking it down to all the different disciplines and contesting each one separately," said Rechnitzer. "So for instance, you'll have a kickboxing competition, and then you'll have a grapping competition."
By offering sports such as mixed martial arts, pickleball and BMX racing, Mills and Rechnitzer – who also run the Empire State Sports Council – are hoping to attract a wider array of athletes than the Empire State Games, which were last contested in 2010.
"A lot of it stems from the sports council itself," said Mills. "One of the things we wanted to do was pick sports that get people out of the house."
"It's as much about fitness and education as it is about holding events," added Rechnitzer.
Last year's inaugural Liberty Games featured only seven sports and received little in the way of promotion. Yet Mills estimated that 1,000 athletes from around New York competed last year, and he said he expects more to come to this year's games, which will feature 16 sports.
(Continued on Next Page)
Prev Next
Vote on this Story by clicking on the Icon