continued — Hodom was then told that from now on, Bethlehem's courtroom will be known as the Barbara Hodom Courtroom.
Hodom said she was shocked and thanked nearly everyone in the room before making her rounds to chat with those in attendance.
"I just don't know what to say. This means so much," she said.
Justice remembered
Later that afternoon, former Town Justice Mark Jordan was honored with a small ceremony outside of Town Hall at which a bench was dedicated in his memory and a tree was planted.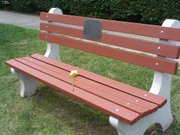 Jordan, 50, died suddenly in January after suffering a brain aneurysm. He had previously served half of a term as a member of the Bethlehem Town Board before running for justice in 2011. Jordan also had a law practice in Delmar.
Family, friends and colleagues met to remember Jordan and his time working with the town. He was recalled as an honest, good-humored and hardworking man who loved his family. The bench that was dedicated also included a plaque with Jordan's face on it and some information about him.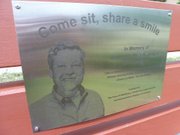 After the outdoor ceremony, those in attendance moved inside for the unveiling of a portrait of Jordan and a plaque that was mounted inside the courtroom.

"We want to make sure that no one ever forgets Mark. I know I won't," said Donovan, who was not only a friend, but fellow justice. "We are now going to have him in our court forever."
Vote on this Story by clicking on the Icon