ALBANY COUNTY — Behind the bark of some ash trees in Albany County is an invasive species that goes unnoticed by most, but within a few years the damage could be staggering.
The emerald ash borer, or EAB, has already been confirmed at more than 20 locations in the county and without proactive treatments it will only spread further, according to environmental experts.
The majority of confirmed infestations are in the southwestern portion of the Town of Bethlehem south of the railroad tracks, with three confirmed sightings across the border in the Town of Coeymans. Though the problem is isolated now, experts advise the best offense is a good defense.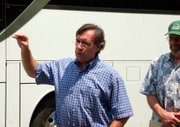 The Cornell Cooperative Extension of Albany County on Tuesday, June 25, hosted Mark Whitmore, a forest entomologist at the Department of Natural Resources at Cornell University, for a presentation on updated information about emerald ash borer infestations and what communities can do to address them.
According to Whitmore, the time for action from municipalities and property owners isn't forthcoming – it should already be underway.
"Right now, they should be looking at all public infrastructure and property and determining where the ash (trees) are, that way they know their liabilities," Whitmore said. "Once they know their liabilities, they can begin … developing management decisions and priorities."
Out-of-state experience
Whitmore also spoke in April at the county Cooperative Extension to address emerald ash borer concerns, but a contingent from the University of Vermont Extension was interested in hearing his presentation now. Around 80 people attended the April meeting.
Mary Jane Hughes, recourse educator of the county Cooperative Extension, said the Vermont group and Whitmore decided to meet at the Voorheesville office because it was about an equal drive for both. Local officials and community members were also welcomed at the presentation.
Before heading back home, the Vermont group and local attendees visited an emerald ash borer infestation located on private property off West Yard Road in Bethlehem. The extension has permission from the landowner to bring groups for educational purposes.
(Continued on Next Page)
Prev Next
Vote on this Story by clicking on the Icon