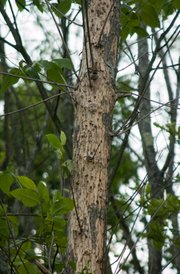 continued — Infestation signs were easily spotted, with large portions of bark stripped from several ash trees set back from the road. Woodpeckers feed on EAB larva underneath the bark, leaving the exposed trees, but less frenetic feeding might only leave holes in the bark.
Once a woodpecker has stripped a tree, it is too late to save it.
"The really heavy symptomatic trees are here at the core, but it has already gone further from here and that is the thing to think about," Whitmore said.
Many of the trees at the core of the Bethlehem infestation, despite being in a low-Tier II infestation, could be saved, according to Whitmore.
"A lot of these trees if you treated them right now … you could probably save them if you wanted," Whitmore said. "From what I have seen in the Midwest it is really remarkable. It is better to be way out ahead of it, but you can be lazy and wait to the last minute as well."
Local response wanting
Bethlehem Town Supervisor John Clarkson wasn't aware of any measures being taken by the town to control the beetle. Clarkson said the local infestation is not something the town oversees, but he is aware of the issue.
Treating trees with insecticides is a common preventative measure, but it's unclear if Bethlehem has this option. The town has a policy against using pesticides for certain applications, but Clarkson said the town's Pest Management Committee can grant exceptions. The chapter on pesticides was added to the town code in 1998, with several additions and amendments made in 2007.
Clarkson said the state Department of Environmental Conservation has not reached out to him regarding the emerald ash borer infestation.
"It is a new issue to me in terms of town action," Clarkson said.
Vote on this Story by clicking on the Icon