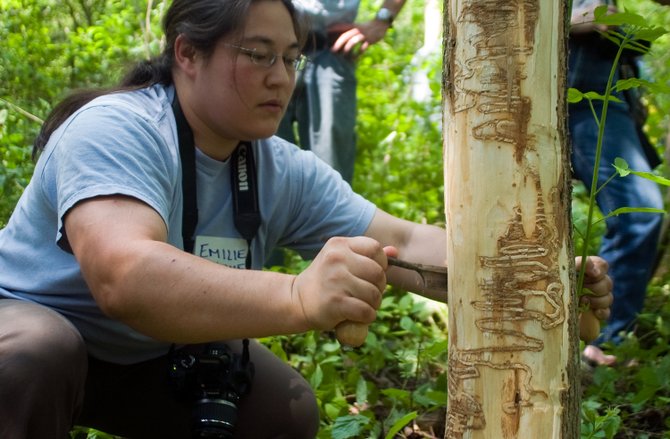 continued — But Hughes said she has gotten "very little" response from local officials.
Document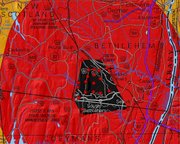 "If we ignore it, all the ash trees are going to die in not that many years," she said. "We are in an ash area that has a lot of ash."
Last year, Hughes surveyed Bethlehem's parks for the beetle during July and August after getting from the town Parks Department. This year, she sent information to the town about the two workshops.
Hughes was pleased with attendance at the April workshop, with around 80 people attending. There were also some town Highway employees at the recent presentation.
Hughes, who retired Friday, June 28, said she would be continuing to work on the issue locally. Whitmore emphasized time is of the essence.
"You just don't know what you got until it's gone and that's the biggest problem I've been dealing with throughout the state," he said. "Once you got it, it works fast."
Infestation spreads rapidly
Pointing to trees showing signs of the emerald ash borer just off the road at the Bethlehem site, Whitmore estimated they would be dead in a year.
"This is really just starting and it's expanding, so the symptomatic trees … they are restricted really close to where we feel it might have gotten started next to the railroad yard," he said, "but I'd be willing to bet it is probably five miles away from here."
The state Department of Environmental Conservation in October 2011 confirmed the first discovery of the metallic green beetle in Albany County near the CSX rail yard in Selkirk. This initial sighting was close to where group investigated at the recent workshop.
The first confirmed report of the beetle in New York state was in June 2009 in Cattaraugus County off of Exit 16 on I-86. In 2002, the invasive species was initially discovered in the U.S. near Detroit, Mich. The United States Department of Agriculture believes it likely arrived in solid wood packing materials brought into the country from Asia.
Vote on this Story by clicking on the Icon