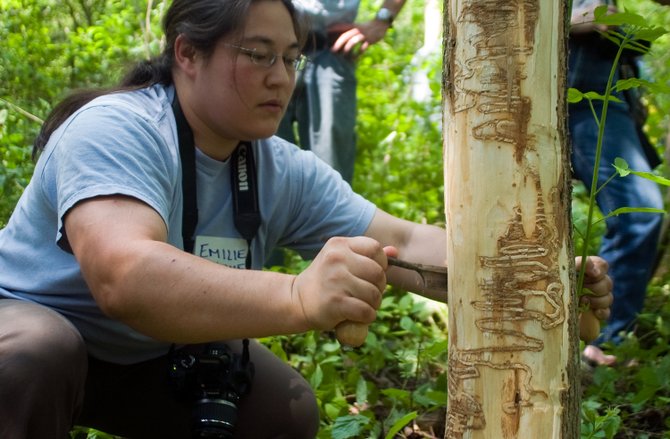 continued — The U.S. Forest Service in its 2012 New York Forest Health Highlights report said emerald ash borer is "currently the most significant invasive insect species in the state."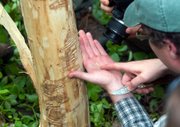 Whitmore said viewing an infestation firsthand can be best learning experience.
"Seeing the infestation is going to say much more than I can say," he said. "This is a whole new ballgame that we are facing right now. … The emerald ash borer is going to change the face of our forests."
Before the group even entered the wooded area in Bethlehem on Tuesday afternoon, the tiny beetle was spotted.
"I get off the bus and bam, there was one right in my face," said Rhonda Mace, part of the group from Vermont. "I was like, 'Wow!' I didn't think it was that probable."
As the group went into the forest, the less visible signs of infestation became apparent as drawknives were used to cut the bark off the trees, a process also known as girdling.
This bark stripping exposed larvae feeding galleries on several trees, with some trees having extensive winding "S" shaped pathways. There were even a few larvae inside the trees discovered by the group.
Costs of action, inaction
While local governments are facing tough times, Whitmore contends the cost of inaction is far higher than the cost of proactive management.
Whitmore estimated the cost of removing an ash tree killed by an infestation at around $300. Treatment spreads more modest costs out over the long term.
Whitmore believes it is "human nature" that the problem doesn't sink in with people until they see dead trees. Locally, he said there isn't "a lot of mortality" yet.
"By the time (communities) realize they have a problem they have all these dead trees to look at," he said. "So many urban foresters I have spoken with are so frustrated. They knew it was happening … but the people who make the decisions … didn't realize it until there was a certain percentage (of dead trees)."
Vote on this Story by clicking on the Icon