continued — Piago said the site has about 3,000 regular followers, and another 2,000 who have "commitment issues," who don't sign up for the email list.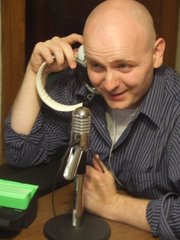 The website doesn't bring in any revenue. Piago said they want to continue growing their fan base before they start to seek advertisers. But mostly, at least for now, it seems like the site has a strong potential to grow as the friends remain passionate and excited for the future of their geek-loving culture.
"We're real. We'll tell you if we like something, if we don't like something. We have a real man on the street sort of vibe," Piago said.
Adding in an entertaining element, Vassilakis said, also makes their site stand out.
"We put our own personal spin on most things. It's a laugh," Vassilakis said. "(My posts have) a more comedic effect. We add that sort of flavor to the articles we put on there."
The group said they're always looking for new writers and artists. The site can be found at evilgeeks.com.
Vote on this Story by clicking on the Icon