COEYMANS — Summer camp is back on at Lawson Lake Park thanks to a new partnership between Albany County and local organizations.
The announcement was made on Wednesday, July 3, within the park's newly renovated Waldman Lodge in Coeymans. Kids are already happily participating in camp activities. County officials credited the opening of the park to the efforts of Albany County Executive Dan McCoy, Sheriff Craig Apple and District Attorney David Soares.
"Last year we were notified that the Boys and Girls Club couldn't afford to get out to the lake, so they weren't going to use it anymore," said McCoy. "I've always said Lawson Lake is the gem of Albany County and I wanted to form a partnership to make sure make this happen once again for the kids."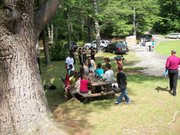 Lisa Hunter, the executive director of the Boys and Girls Club of Albany, said the organization had been holding summer camps at Lawson Lake since the 1990s, but decided last year to end the program because of increasing costs, such as transportation. The park's facilities had also been deteriorating over the years and needed work.
That's when the county stepped in. To spruce up the park, renovations and landscaping were performed by the Albany County Sheriff's Explorers Unit and inmates from the Albany County jail through an inmate workforce program. Volunteers from the Boys and Girls Club also took part.
"Lawson Lake will provide a safe environment for all Albany County kids to enjoy," said Apple. "Our Sheriff Explorers Unit, which is made up of teenagers, marked all the trails and our inmate workforce provided hundreds of hours of labor to clean and prepare the camp for the kids. This truly has been a synergetic effort."
McCoy said teenagers had been using the park buildings as a place to party over the years, and that's how some of the facilities became run down. The sheriff's office will be stepping up its patrols of the park.
(Continued on Next Page)
Prev Next
Vote on this Story by clicking on the Icon