GUILDERLAND — Guilderland Supervisor and Democrat Ken Runion will once again seek his leadership position, with fellow Town Board incumbents likely to join him on the party's ballot lines.
The Guilderland Democratic Committee will nominate its candidates for town elections during a caucus in August, but Runion said he is unaware of any challenger for his job within the party.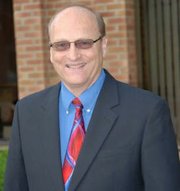 Runion also confirmed Democratic Town Board incumbents Patricia Slavik and Paul Pastore are seeking reelection. Democratic Receiver of Taxes Jean Cataldo will seek the office of town clerk, with Democrat Lynne Buchanan seeking receiver of taxes, he continued. Democratic Town Justice Denise Randall will seek reelection, and Town Attorney Richard Sherwood will seek a newly created town justice seat.
The county's Independence and Conservative committees have endorsed all of the Democratic hopefuls, according to Runion.
Runion, who had not made a public announcement of his intentions, said he still has projects and issues he'd like to see completed and addressed.
"It is a job that I have been doing for some time and I enjoy being town supervisor. I think I have accomplished a number of things in the past 14 years," Runion said. "There are other things I'd like to do over the next couple of years."
Some of the issues Runion said he wants to address are sidewalks being installed in Guilderland Center, solving drainage problems in the hamlet of McKownville and installing new playground equipment at Tawasentha Park.
Runion believes he has a "good record" and hopes "voters feel the same way." His intentions are to run on his record and "keep things very positive." He touted endorsements from the Independence and Conservative committees as proof of his solid record.
"We have always had a coalition with the Democratic Party and the other parties as well, and I've run with the Conservative and Independence endorsements since first elected in 2000," Runion said. "I think that reflects on the fact that those committees feel that we have a good record and have done a good job of managing the town."
(Continued on Next Page)
Prev Next
Vote on this Story by clicking on the Icon