continued — He said managing the financial affairs of the town is important to him and the economy has been starting to improve. Town revenues have also been on the upswing. Runion pointed the state comptroller's recent report finding no fiscal stress in the town. He partially credited this to the town's fund balance increasing and remaining strong.
"We haven't had to use our financial reserves to meet our day-to-day operations," he said. "We have adopted very conservative budgets and we have met all our obligations."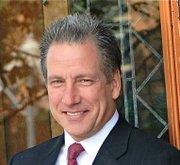 Runion will be facing Republican Mark Grimm, who has previously clashed with Runion as a Town Board member. Runion said he doesn't see any reason why the campaign should be negative, though.
Grimm said Runion "creates a sharp contrast between someone who has raised taxes frequently and someone who has fought against tax hikes." He asked residents to look at their tax bills from when Runion took office in 2000 to now.
Grimm also scoffed at Runion receiving Independence and Conservative endorsements, claiming it to be an "inside deal." When Grimm was previously elected to the Town Board in 2007 he said he didn't receive those endorsements.
"The fact that I am not an insider is one the things that people like about me," Grimm said.
Grimm also said "many people feel 14 years is long enough" and are ready for a change in leadership.
Runion said residents have had the opportunity to vote him out of office every two years, but have chosen to keep him instead.
Vote on this Story by clicking on the Icon