CAPITAL DISTRICT — For some, it might take some trial and error to find a driving passion.
Take David Arsenault, who has tried a little bit of everything. First, he started studying to be a sports statistician, but lost interest. Then he dabbled in retail, personal training and advertising. He began studying graphic design, edging closer to finding his match.
Yet it wasn't until his mid-30s when he decided to study painting at the University at Albany that the light bulb finally flickered on.
"I was late to art … but I got hooked," Arsenault said.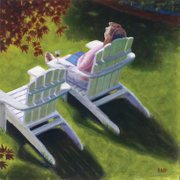 But he still had to lose interest one more time. Arsenault never completed his fine arts degree. He's still two courses short, but that doesn't bother him.
"Basically, I understood what I had come to understand … how to create paintings and how to get ideas out and how to use materials. I felt I needed to move on," Arsenault said. "The degree wasn't as important to me as getting out there and being a working artist."
And that's exactly what he's doing. Now 54, Arsenault is working for Cengage Learning, a Clifton Park-based educational publisher, and comfortably balancing his life as a realist painter. Exhibiting roughly 10 times a year, Arsenault's most current display of his work is at the gallery5one at 22 Clifton Country Road in Clifton Park through the end of July.
The exhibit features original paintings for sale as well as giclee prints, which are digital canvas reproductions.
Much of Arsenault's work reflects a realistic setting, including ordinary homes and things he sees every day, with a twist of imagination. For example, sometimes he'll combine two realistic settings, like the interior of a Latham apartment looking out onto a Cape Cod exterior.
"I want people to have the sense of common beauty of every day experience. Average houses, average situations. Things we experience, see, all felt. Just try to help people see a little snapshot of what I consider the regular mundane beauty of our lives," Arsenault said. "Things we ordinarily miss. I think if we did, we'd appreciate it a little more."
(Continued on Next Page)
Prev Next
Vote on this Story by clicking on the Icon