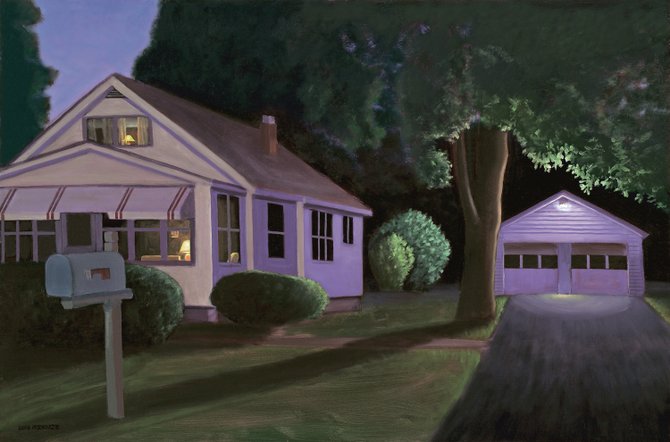 continued — Arsenault said his work is often compared to that of Edward Hopper, a prominent American realist painter. Inspired by Hopper since he was in elementary school, Arsenault said he became reacquainted with his work while studying painting. Yet the core difference between the two painters is one of emotion.
"A lot say Hopper's work (gives a) feeling (of being) alone, desperate, sad. He was kind of a depressed individual. … That's not who I am. I'm not a depressed person. I'm not trying to make people have negative feelings," Arsenault said.
Yet like Hopper, Arsenault's work often has a limited number of figures in the picture and intense dramatic lighting.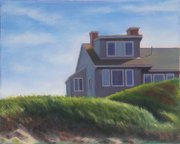 "He uses the light in such strong compositional ways that create a sense of drama. You're looking at something like you just missed something that happened, or something will happen when you're done looking," Arsenault said. "That dramatic light really spoke to me. I really connected to that."
Arsenault now lives in Glenville but spent 24 years living in Colonie. He said he's painted pictures of several houses in the Capital District, sometimes doing on-site work, but more often taking a photo and painting it later. He said he frequently visits Cape Cod and implements that location into his work as well.
"I enjoy the relationship between the sky, the sea and the land … the buildings within that context and the dramatic light I think the Cape has. It's unique," Arsenault said.
Arsenault is working on an upcoming exhibit in Saratoga that will featuring paintings of Saratogian architecture. He said he's focusing on parts of the buildings, smaller details and the way they play off the blue sky or a tree nearby.
Mostly, Arsenault said he's just having fun with his work, and enjoys perfecting his own style.
Vote on this Story by clicking on the Icon