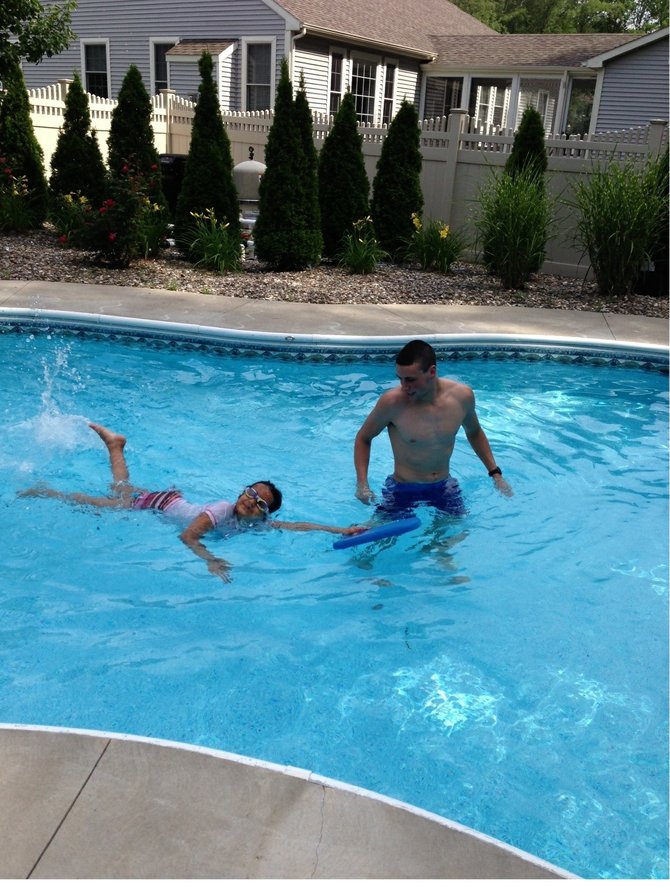 COLONIE — For kids, splashing in the pool can be among the best of summertime activities. But the idea of jumping into unknown waters for the first time can be frightening.
Colonie native Kevin Kearney is trying to change that. Kevin's Swim School is comprised of a local team of early- to-mid 20s swim instructors focusing on making the pool a comfort zone, rather than a fearsome pit. The school specializes in teaching children from the age of 18 months to 10 years old, helping them relax into the water and gearing some up for competitive swimming.
Kearney, a 2007 Shaker High School graduate, began the swim school two years after graduating from SUNY Binghamton with a degree in mechanical engineer. He has been swimming competitively since fourth grade.
When he returned back to Colonie from college, he began coaching for the Albany Starfish Swim Club as well as putting his degree to use by working at a power laboratory. With suggestions from the Albany Starfish head coach, Kearney decided to start his own "Learn to Swim Program." He began getting in touch with some old swimming friends who were still in the area to see if they were interested in helping him out, and was soon able to set up two class locations at the Sunnyview Wellness Center in Schenectady and the Holiday Inn Express in Latham, with about 60 students.
"It started to take off a little quicker than I anticipated. I had to make the decision, 'What are you going to do? Follow swim school or mechanical engineering?' Go with swim school," Kearney said.
Since starting in June 2012, Kearney has amassed 10 coaches that teach swim classes year round. Kearney created a core curriculum for the classes, splitting kids into six different levels, from beginning to intermediate. The different groups each have a customized curriculum based on what the swimmers need to learn in a logical progression to help them learn to swim safely. Classes run in six-week blocks of 30-minute weekly session, and have a ratio of four kids to one coach.
(Continued on Next Page)
Prev Next
Vote on this Story by clicking on the Icon