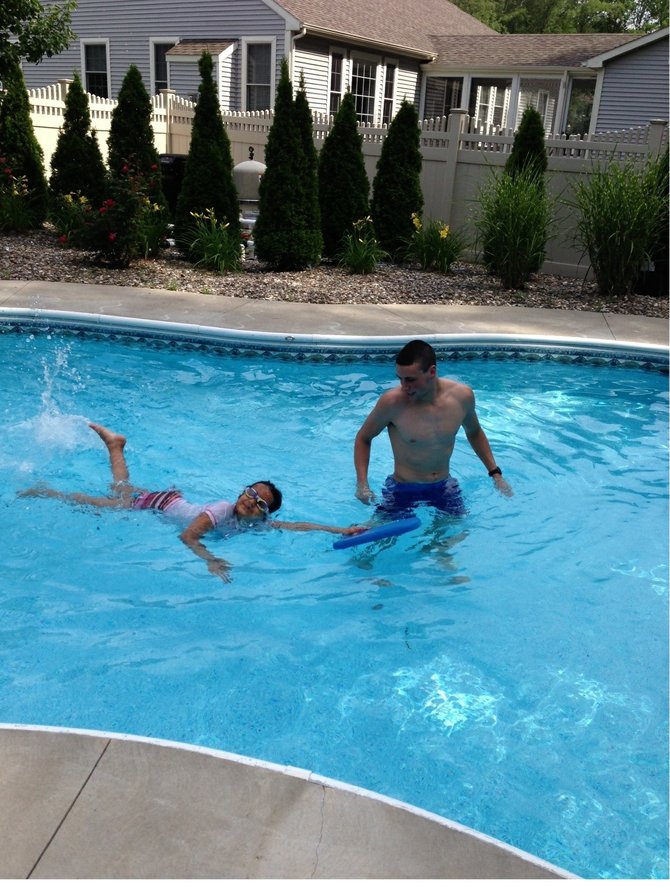 continued — "One thing we make sure is we keep the classes very small," Kearney said.
Kearney said all of the instructors were also competitive swimmers or teachers. All instructors are CPR and lifeguard certified.
"We really make sure the kids are being taught from people who know what they're talking about in terms of swimming but who are also good at communicating with what the kids need to learn. Sharing that quality, not cookie-cutter type teaching mode, adapts to the kids," Kearney said. "It makes life a lot easier knowing you have quality instructors who are great with kids, so I already know what they are capable of."
Greg Danis, of Colonie, swam with Kearney in high school and is now one of the instructors at Kevin's Swim School. He said one reason he enjoys working for the swim school is because it turns a lot of the kids on to competitive swimming.
"Most places around here use the Red Cross method, which has its pros and cons. No one's had the guts or insight to come up with a new kind of plan. (Kevin) is really more of a scientist when approaching the stuff," Danis said.
Children can also move up during the session if they need more of a challenge.
"It's pretty cool, even with one day a week, you can really see the progress of the kids, especially when the classes are small for individualized attention," Kearney said.
Kearney said focusing on being comfortable in the water and trusting the instructors is something they often work on with the kids.
"We've had a good number of children who have come into the program who had experiences that were less than favorable in their backyard pool. It left them with a perception of swimming that was not very positive," Kearney said.
Vote on this Story by clicking on the Icon