LOUDONVILLE — As dozens of families holding signs and balloons wait breathlessly on the back steps of Christ
Our Light Catholic Church in Loudonville, one group is a little more reserved.
"This isn't our first time," explains Lara Vazquetelles, as she stands patiently waiting with her twin daughters and teenage son Monday, July 1. "We've been here before."
The crowd gets antsy as someone calls out that the bus from New York City will arrive within minutes. On it are 24 children, aged 6 to 18, arriving to spend two weeks with Capital District families through the Fresh Air Fund. The nonprofit agency provides free trips to low-income children living in New York City in order for them to spend a portion of their summer in a rural or suburban community.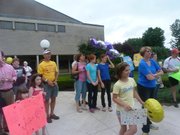 For the fourth year, the Vazquetelles family is hosting Dominic Canesh, a 13-year-old from Queens. He was 10 when he first visited their home in Delmar, and has now become like a member of the family. In fact, Canesh actually visits several times each year, but the Fresh Air Fund only pays for one trip a year to allow for a maximum number of children to utilize the program.
"Sometimes we'll meet his mother halfway or he'll take a bus," said Lara Vazquetelles.
While waiting, the family tells some of their favorite stories, like how they taught Canesh to ride a bike. They are also excited to be visiting Fort Ticonderoga in a few days.
As the bus arrives, one of the Vazquetelles twins pulls out a tiny "sign" to welcome their guest, while other families crowd closer to the drop off point. As the names of families are called, the excitement starts to set in for the Vazquetelles.
When Canesh's face finally appears as he exits the bus, Lara Vazquetelles begins to cry. Soon, the family envelops Canesh in a giant hug.
(Continued on Next Page)
Prev Next
Vote on this Story by clicking on the Icon