VOORHEESVILLE — Summer for many high schoolers means a time to relax or work at a job. For Voorheesville High School student Rebecca Barron, it will mean more time to practice.
Barron, who is entering her senior year next fall, was accepted to study at the prestigious Boston University Tanglewood Institute in a summer music program for high school students. The application and audition process finds the best young musicians from across the world. This year, there are students from Europe, South America and Australia hoping to learn from distinguished professionals.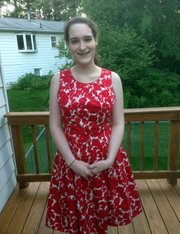 Barron said she heard about the program through the youth orchestra she plays in, so she researched it and thought it would be a good experience if she were accepted. She wasn't certain she would get in, and was planning to do a little more work as a lifeguard this summer.
She won't be blowing a whistle at any swimmers this year, focusing instead on her French horn.
"I was very excited," Barron said, after finding out in April she would attend the program. "I wasn't sure I was going to get in because it is a very competitive camp so I was very pleasantly surprised."
Barron was accepted into the program's French horn workshop, which had her studying before she even arrived in Lenox, Mass., last month.
Every student in the French horn workshop is instructed to spend "a considerable amount of time studying not only the individual parts, but also the complete orchestral scores" of Symphony No. 1 by Johannes Brahms, Symphony No. 4 by Pyotr Tchaikovsky and Ein Heldenleben by Richard Strauss, Barron's welcome letter states. Students also must prepare two solo works and "an etude or two."
"I have been told there is a lot of really good staff there that will be nice to meet," Barron said.
(Continued on Next Page)
Prev Next
Vote on this Story by clicking on the Icon