ALBANY — Discerning palates tasted six different tap water samples from around Albany County, but even with varying tastes one truth is evident: water is best cold.
The local first round of the state's Best Drinking Water contest was held on Tuesday, July 10, in the lobby of the Harold L. Joyce County Office Building on State Street in Albany. Once again, the Town of Guilderland captured the favor of the majority of taste buds, which advances the town to the regional competition to be held during Alive at Five in Albany on Thursday, Aug. 8. Guilderland took first place with 35 points and edged out runner-up Latham by 4 points.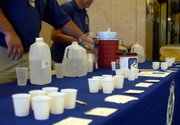 Guilderland Department of Water Superintendent Timothy McIntyre was pleased the town was named top tap in the county.
"We put a lot of time and effort into maintaining and producing the best quality of water we can. It is nice to be recognized," McIntyre said. "We were fortunate that people like the taste of our water."
This year's participants were Albany, Bethlehem, Guilderland, Cohoes, Latham and Green Island. The municipalities in the competition are entered on a first-come, first-serve basis, so people are not overwhelmed with too many samples.
Guilderland isn't new to the spotlight, because last year the town tied with the Town of Niskayuna at the regional competition. Guilderland then took second place at the state competition held at the State Fair in Syracuse, and Niskayuna took first place.
"We have kind of hard water in the Town of Guilderland and hard water with its minerals has its own complexities and taste," McIntyre said.
At the recent county competition, one sample sunk to the bottom immediately because it tasted warm in comparison to other samples, according to water tasters. That sample was from Cohoes.
Jim Close, of Stillwater, said he chose Guilderland as his top choice because it had a "crisp taste" and didn't have any chlorine flavor. He also commented on how the Cohoes sample was warmer, which knocked it from consideration for his top choice.
(Continued on Next Page)
Prev Next
Vote on this Story by clicking on the Icon