continued — "In the mid-1990s, we had one of the 100-year floods. The icebergs came up high and slid under the stage and took out about a third of the supports," Burrows said. "The next summer we had to cancel anything that involved dancing or bouncing."
Fortunately, the village received a grant to build a new and improved stage, said Burrows.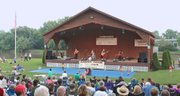 "Jim Denney was mayor at the time. He called me up sounding annoyed saying, 'We put all this money into the stage – do more shows,' " Burrows laughed.
It was then the concerts went from being only on Wednesdays to include Saturdays and eventually Sundays.
"We now have 34 shows scheduled three days a week, and sometimes a fourth," Burrows said.
Opening night this year brought more than 2,000 people to the park.
"I think it was the combination of Hair of the Dog, which is happy music and appeals to all age groups, and it was the first nice night in a while," Burrows said.
Janack said typically, a couple hundred to 500 people can be expected at the shows.
"We try to put together a schedule that has something for everyone," Burrows said, adding that the rock bands usually draw the largest crowds. The classical series will bring 500 to 600 people.
Janack added that people usually pay money to see the Wister Quartet, made of up four members of the Philadelphia Orchestra, but the group performs for free at the park on Aug. 18.
"It's big-time talent playing locally for free," she said. "We have The Audiostars coming up who always draw a crowd. On the other end of the spectrum at the end of July, the Joey Thomas Big Band pulls in a very big crowd – both 20-somethings and their grandparents," Burrows said.
This year, the park will feature Schenectady Light Opera Company's "High School Musical" performance on Aug. 14, 15 and 17.
Vote on this Story by clicking on the Icon