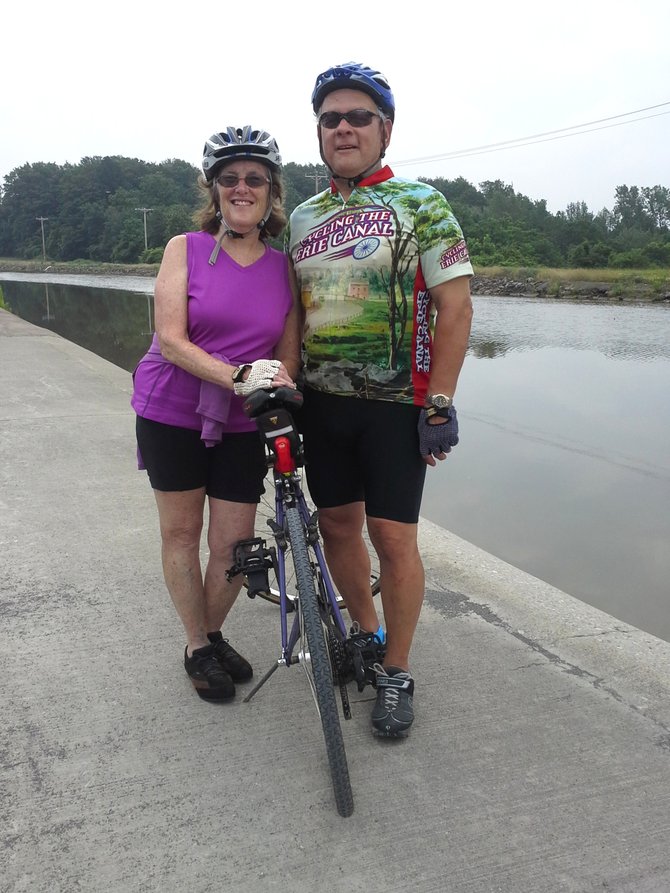 continued — Many camped, while other stay in motels or with friends and family. Dinner and nighttime entertainment is provided by organizers, but many use their free time to explore the locales. Clarkson said he and his son biked a side trip to Rochester.
The registration fee for the tour raises funds for Parks and Trails New York.
"It's really a great bonding experience," said Clarkson of the time spent with his family. He also remarked how the trip is never boring because of the beautiful scenery.
DiMaggio said the trip is a time to catch up with friends the couple made last year. They also stopped to visit at night with family that live nearby.
Clarkson and DiMaggio both found it amusing that their opponent had signed up for the trip in the same year.
"We said 'hi' to each other, but there wasn't a whole lot of time for conversation given the circumstances," said DiMaggio, also remarking on how the trip served as a vacation.
DiMaggio said others on the trip and along the way also found it funny both candidates were doing the bike tour at the same time, including the mayor of Newark and a local newspaper in Herkimer.
"It was something interesting that people got a chuckle over," DiMaggio said.
Both groups are now home in Bethlehem. Clarkson said he plans on doing the trip again, while DiMaggio said he and his wife plan to look for another biking trip to take, possibly in another state.
"It's just a fun outdoor vacation activity," said Clarkson. "I also like the mission of Parks and Trails."
To learn more about the tour, visit the Parks and Trails New York website at ptny.org.
Vote on this Story by clicking on the Icon