Document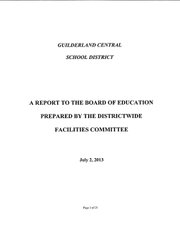 continued — Security concerns largely focus on controlling visitor access to buildings and securing classrooms from being accessed by intruders, Sanders said. Technology concerns focus on creating or improving wireless Internet access at all school buildings.
Some of the most expensive recommendations include replacing roofs at various buildings for around $4.7 million, paving parking lots for more than $2 million, replacing boilers and controls for almost $1.2 million and nearly $1 million for replacing building floors.
The second proposition focusing on the high school was broken out for being dissimilar from other projects.
"After a lot of discussion, two items where we felt that it didn't quite fit the same model as what we were talking about … are being split out," Sanders said.
Board members are scheduled to review and discuss the projects and adopt a bond resolution on Oct. 1. The referendums are scheduled to be presented to voters on Nov. 19. If approved, project design and development would begin, with the state Education Department reviewing the projects from July to December 2014.
The first phase of construction is projected to begin in April of 2015, with the second phase starting in September of 2016.
Vote on this Story by clicking on the Icon