COLONIE — After weeks of heavy downpours with no sun in sight, the weather took a sharp turn last week, as the Capital District grappled with grueling temperatures in a heat that lasted Monday, July 15, through Saturday, July, 20.
As the week grew hotter, county officials urged residents to stay cool by remaining indoors and drinking plenty of fluids.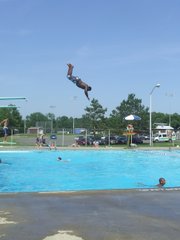 Mary Rozak, spokeswoman for Albany County Executive Dan McCoy, said they were most concerned about elderly residents and making sure they understood signs of overheating and heat exhaustion.
"When the mercury starts to climb, it doesn't take too long to get overheated or dehydrated," McCoy said in a statement. "We all need to be smart and know the signs and symptoms of heat stroke and exhaustion just in case."
On Monday, July 22, Rozak said officials didn't receive any reports of overheating. A list of tips on how to stay cool were sent out and posted on the county's website. The Albany County Department for Aging also helped provide several ways to keep seniors cool and hydrated during the heat wave. CDTA provided seniors transportation to cooling centers around the county, or to a friend of family member's home with air conditioning. Seniors that routinely receive home delivered meals were provided with extra water and meals, as well as a fact sheet on tips to stay cool and hydrated during the heat wave.
The county advised all residents to frequent any cooling stations, including libraries, malls and some schools.
In Colonie, temperatures didn't keep everyone indoors. There were cooling stations designated at the William K. Sanford Town Library and The Beltrone Living Center, but town spokeswoman Sara Wiest said sometimes when they are set up, people don't often go to them.
Although the Albany International Airport released a statement on Tuesday, July 16, that the airfield pavement temperature reached a high of 157 degrees at 2 p.m., the town pool at The Colonie Mohawk River Park was packed with smiling faces on Wednesday, July 17.
(Continued on Next Page)
Prev Next
Vote on this Story by clicking on the Icon