BETHLEHEM — For many adults, shooting hoops or tossing a baseball atop sweltering concrete is a fond summer memory. The bloody knees, heat exhaustion and stressed joints are politely forgotten.
Kids attending the Bethlehem YMCA's summer camps this year won't have to block the bad memories, though. They're running, jumping and playing on a brand new surface that's been laid atop the facility's ice rink, turning what was once a little used concrete slab into a multipurpose area.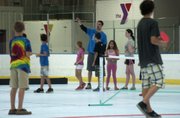 "Prior to this being here, six months out of the year, it was dark," Bethlehem YMCA Executive Director Derek Martin said. "Now, there's 200-plus kids here on a daily basis."
The 17,000 panels placed over the ice rink's concrete are made of plastic and rubber, and provide proper grip and cushioning for anyone using the surface. The YMCA shelled out $47,000 to the company Matéflex for the surface, which comes with a 15-year warranty. The company will also help the Y remove the surface every year in August, when the ice is put down.
"We saw that we would definitely generate enough revenue, it would pay for itself in the first year," Martin said.
The six-week-old surface is being used by day campers now for activities like basketball, tennis, floor hockey, soccer and other sports, but a floor hockey and roller hockey league are already stepping in, and plans are in the works to bring more programs, such as Zumba, to the floor. Martin said the Matéflex panels make a great surface for kid- and adult-oriented activities because they're easy on the knees and hips.
"The (concrete) surface really wasn't conducive to that kind of movement," he said.
Day campers at the Y also appreciated getting out of the recent sweltering heat and still being able to play. Camper Michael Losavio, 10, of Selkirk, said his favorite game to play is floor hockey because he plays ice hockey in the winter.
(Continued on Next Page)
Prev Next
Vote on this Story by clicking on the Icon