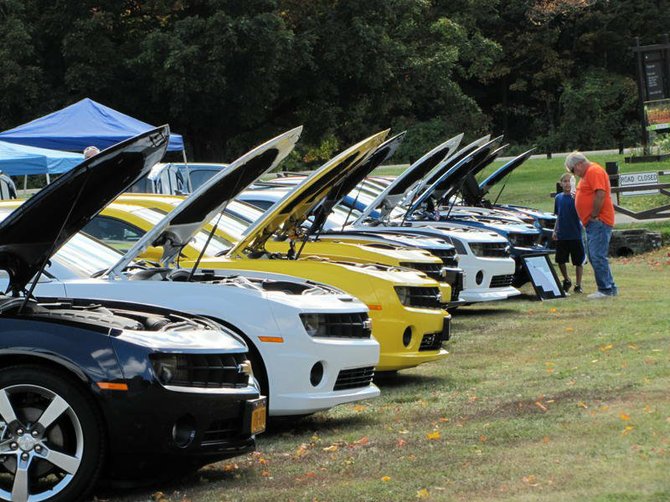 continued — The mechanic said it would cost around $150 to replace or he could "man up and go to a junkyard and put it in" himself. Rittner did just that, getting a starter for $20 and putting it in himself.
Rittner, now 40 years old, said he has owned more than 70 cars at "various stages of repairs." Many he has fixed up and sold, with others being sold as-is.
"It is the thrill of the chase," he said. "I enjoy going to these shows and knowing all of these people have done the exact same thing."
Rittner and Fallon agreed turnout was affected by weather at last year's event. Fallon said the first year was a "real good start," with more than 50 cars and the sun shining.
"The last couple of years it has been on the rainy side so it was not as well attended and not as many participants, so we are keeping our fingers crossed for nice weather," Fallon said. "We are also trying to avoid other shows in the area on the same day."
There will be awards given to the top 10 people's choice award winners, Rittner said, with attendees selecting their top five picks. A little reward will be given to each winner.
"The quality of the cars that are up here is fantastic," Fallon said. "They have the classic models and everyone has the hoods up and the engine blocks are incredibly clean. There are a lot of neat features and old style cars."
Families can also check out Thacher's new playground at the picnic area that opened this spring. The former playground was of an older style, with a climbing dome and swing set, Fallon said. The new playground is of plastic construction with slides and climbing features. Recycled rubber chips were used as the new surface material.
For cars, there is a $10 fee for pre-registration, with it costing $13 the day of the event. There is not a cut off year for cars entering the event. For any questions about early registration, contact the park at 872-1237.
Vote on this Story by clicking on the Icon